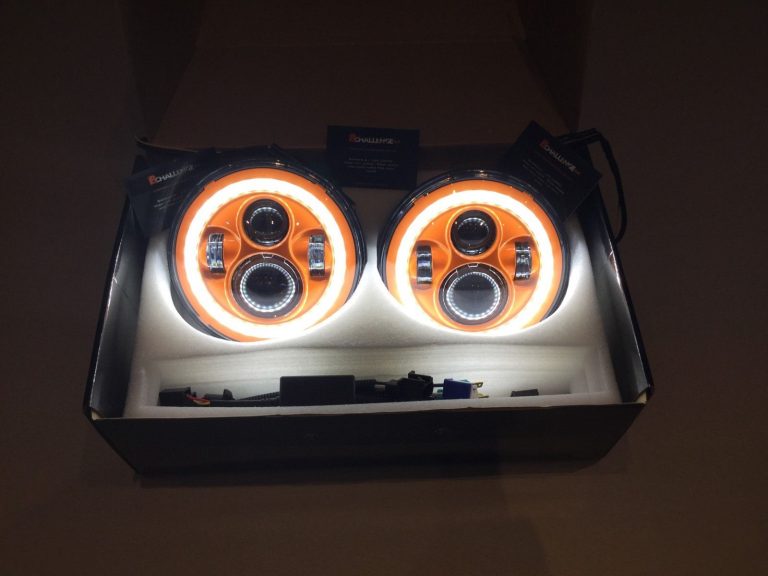 land rover defender 7" Orange LED Head Lights great quality Mini H4 Wrangler
£175.00 (ex Vat)
Description
LR Challenge 4×4
Dare to be different, brand new out! The latest design.
Brand new land rover defender 200 / 300 / Td5 / Tdci 7" LED head lights.
In deep glossy orange,
If you have a car with 7" round head lights but not sure if these will fit call me 07977519453 I'll answer your concerns.
We have a few to choose from check out our other 7" lights. Including metalic effect Red, metallic effect Blue, gloss Orange and gloss Green. Or the standard Black and Chrome
These are Great looking gloss orange with white day light running lights, these really do look the part with day light halo.
6000 lumen
With day light running lights built in
They Also have built in Orange indicator, the halo changes colour to orange then back to white. This is something you don't have to use if you choose not too but looks great when connected.
They fit perfect and look stunning, just reuse your standard chrome light holder to hold them in really easy, and with 3 pin land rover electric pin.
Very strong and well made.
these are a great quality and fantastic looking lights totally different to everyone else at your next event.
easy to install
Postage
if ordered before 9am this will be collected the same day to uk free postage
07977519453