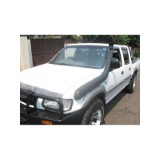 Vauxhall Isuzu Rodeo/campo/ Brava Snorkel Kit
£89.99 (ex Vat)
Description
Lr Challenge 4×4
Brand new Isuzu Rodeo or campo snorkel kit. Will also fit Vauxhall Brava
Just see where your airbox is, these fit to airbox behind head light on passenger side.
As in the first few pictures,
They fit perfect and look the part.
Very strong and well made.
these are a great quality and fantastic looking snorkel,
easy to install with very few alterations needed,
Included in the kit,
This is a complete kit,
comes with the snorkel its self,
the snorkel top, this can be faced forward for backs depending upon choice,
All adaptors required to join the snorkel to your original airbox
Full fittings pack including all clips etc
And
a template for cutting the hole in the wing
I am a fellow off roader and Im really impressed just how good these are, just as good as any more expensive snorkel. Ill happily to give any advise or knowledge towards fitting etc.
Postage
Sent on a 24 hour carrier to uk destinations free.
£19.99 for Europe
Worldwide deliverys are welcome please just ask for a quote thanks adam
Any Questions please ask or call
Adam LR Challenge 4×4 07977519453